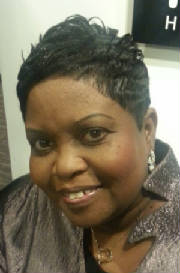 About us... New Creations - Sewing & Alterations is a home-based business where owner/operator Mrs. Angela D. Worrell would like to meet all of your sewing needs. Angela has over 30 years of sewing experience. She is well known for her ability to "work miracles" with projects that seem impossible and for her prompt pleasant service to her clients. In fact, she strives to make every sewing project a pleasant and unique experience for each individual.

Angela grew up in Asheville, North Carolina where there was great emphasis in arts and crafts. She immersed herself in a host of courses and activities in the genre as a child and developed a passion for sewing at the early age of seven. She participated in events hosted by community centers, the YWCA, and the Girl Scouts all throughout school. Her Art instructor and Home Economics teachers all left an indelible mark in her life in that they not only shared their skills and passions with her, but they also took time to ensure that Angela was able to obtain and apply those same skills as well. -Thanks Mrs. Moore, Mrs. Ellis, Mrs. Palmer & Mrs. Lance

Still, her mother and cousin were her role models. Her parents, having recognized her ability to sew, purchased a sewing machine for her when she was in the sixth grade. By the seventh grade, she had her first client for whom she made a two-piece suit, a skirt, and a jacket. Quickly thereafter, armed with only word-of-mouth advertising, her clientele began to grow. She has been in the business of sewing and alterations ever since.

Angela specializes in bridal wear and alterations. Her garments have been worn by ministers, models and blushing brides alike. They have been featured in pageants, school bands, weddings, fashion shows and many more special occasions. New Creations - Sewing & Alterations has produced lines of children's clothes and produces samples for aspiring designers. Mrs. Angela's range of expertise includes: altering bridal gowns for local bridal shops, wardrobe sewing and conducting Sewing & Alteration Classes.

In addition to her talents in sewing and arts & crafts; she enjoys singing, working with children and spending time with family and loved ones. She's a grandmother of six, and a mother of three.